Taxi from Bali airport to Ubud with a private cars
Ubud Airport Transfer Services offer passengers an easy and quick way to travel from Ngurah Rai International Airport to their Ubud, Bali destination. Here are some essential details about these services:
There are various sorts of transfer services, such as private automobiles, shared shuttles, and taxi services. Each alternative has its own advantages and disadvantages, allowing tourists to select the one that best suits their needs and budget.
Private automobiles are a popular option for individuals seeking a comfortable and individualized experience. This option delivers a comfortable, air-conditioned vehicle driven straight to your Ubud destination by a professional driver.
Shared Shuttles: Shared shuttle services are an economical and convenient choice for getting from the airport to Ubud. These shuttles operate according to a predetermined timetable and route, making stops at several hotels and locations along the way.
Taxis are also a popular option for those looking for a simple and cost-effective way to commute from the airport to Ubud. Taxis are available for rent at the airport and provide greater flexibility than shared shuttles.
Airport shuttle services from Ubud can be reserved in advance online or upon arrival at the airport. To ensure availability and prevent the stress of getting transportation after landing, it is best to reserve in advance.
How much does Ubud airport transfer cost?
The price of airport transfer services in Ubud varies based on the type of service, the distance traveled, and the number of passengers. A private automobile journey from the airport to Ubud normally costs between IDR 300,000 and IDR 500,000, and shared shuttle services cost approximately IDR 200,000.
[button title="Get Quotes" link="https://wa.me/send?phone=6281236338089&text=Hello,%20Ubud%20Cab" target="_blank" align="" icon="" icon_position="" color="" font_color="" size="2″ full_width="" class="" download="" rel=""]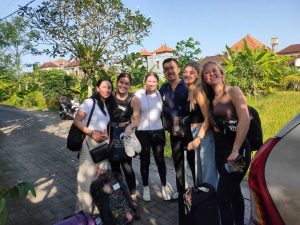 The majority of airport transportation services in Ubud accept both cash and credit cards as methods of payment. It is recommended to carry local currency, the Indonesian Rupiah, as some merchants may not accept foreign currencies.
Safety and Dependability: The majority of Ubud airport transfer operators are dependable and prioritize customer safety. The drivers are licensed and insured, and the vehicles are maintained routinely to ensure a safe and comfortable trip.
In conclusion, Ubud airport transfer services provide a convenient and cost-effective means for passengers to travel from the airport to their Ubud, Bali destination. With a variety of alternatives, including private vehicles, shared shuttles, and taxi services, passengers can select the option that best suits their needs and budget.