Private Driver Bali will Assist You as a Friend
Bali has caught the imagination of tourists from throughout the world. Bali is the ideal spot to unwind, relax, and enjoy a little piece of paradise due to its magnificent beaches, vibrant culture, and breathtaking surroundings. But, traveling to this gorgeous island might be difficult if you are inexperienced with the local roads and traffic patterns.
Herein lies the role of our private drivers. With our skilled and knowledgeable drivers, you can rest confident that your Bali excursion will be hassle-free and memorable. Our drivers are natives who are well familiar with the island. They will take you to the most picturesque locations, suggest the greatest restaurants, and ensure you have an unforgettable trip.
The freedom provided by a private driver is one of the most significant advantages of hiring one. You are able to tailor your schedule to your tastes and budget. Whether you wish to explore the island's natural marvels, visit the island's famous temples, or go on a shopping spree, our drivers will make it happen. They will collaborate with you to develop a customized schedule that caters to your interests and maximizes your Bali experience.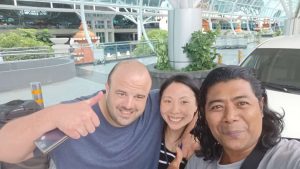 Another advantage of hiring a private driver is the convenience and comfort it provides. Instead of negotiating with taxi drivers or figuring out public transportation, you can sit back, relax, and take in the sights. Our drivers have access to air-conditioned automobiles, allowing you to travel in luxury and comfort. In addition, they will pick you up from your hotel or villa and deliver you to your selected location, saving you time and effort.
And a primary focus for us is safety. Our qualified and certified drivers will ensure that your trip is safe and secure. Along the way, they will provide you with helpful hints and information. We are proud of the professionalism and dedication of our drivers to customer satisfaction.
We make reserving a private driver simple and uncomplicated. You can make reservations online or by calling our customer service department. You may rest assured that you are receiving a fair price because we offer competitive and transparent pricing. In addition, we provide a variety of automobiles, allowing you to pick one that meets your budget and travel requirements.
Hire Bali Driver
fromUS$ 23per car
Book Now
Inclusions
USD23 (Half-day 4 hours)
USD35 (Full-day 8 hours)
Bali Central area
Private Car
Petrol, Parking & Tolls
English-speaking
Bottled a Mineral Water
Exclude
Entrance Ticket
Lunch
Personal Expenses
Extra time $3/hour